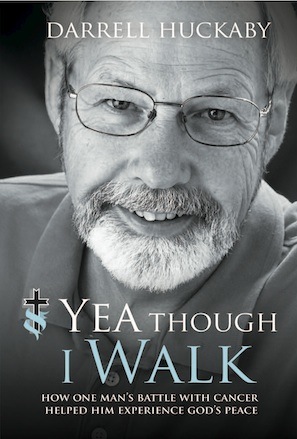 "I'm afraid you have prostate cancer."
Almost 5,000 men hear those words each week in the United States alone. There are more than a quarter of a million new cases of prostate cancer diagnosed annually and, sadly, there are more than 28,000 deaths from prostate cancer in the U.S. annually. That is almost 100 deaths a day from the deadly disease than many people erroneously call "the best kind of cancer to have."Darrell Huckaby, educator, author, syndicated columnist, radio personality, public speaker and quintessential Southerner heard those words for the first time in May of 2011. His diagnosis sent him on a journey that would become an emotional roller coaster. As treatment after treatment failed to produce positive outcomes, he and his family would remain faithful to their beliefs.
With the help of the God they had all trusted all of their lives and buoyed by the prayers of thousands of friends and fans, they persevered, taking everything the insidious disease threw their way. In the end, Huckaby found the peace that comes only from being in perfect alignment with God's will and became determined to find a way to use the lessons he learned through his ordeal to help others who might be walking a similar path, and to bring glory to God Almighty.
Yea Though I Walk tells the story of one man's courageous battle with cancer. In true Huckaby tradition, this master story-teller makes plenty of detours along the way as he shares his experiences and thoughts and bares his very soul. It is a must read for anyone who has, has ever had or might ever have cancer. Friends and family members of cancer patients will be uplifted by Huckaby's frank remarks and positive attitude. This book will also be appreciated by anyone who enjoys a good story well-told. Be prepared to laugh a lot and cry a lot and to rejoice with the author and his friends and family at the happy ending that is yet to come.
$24.00 Each